Copic Sketch Markers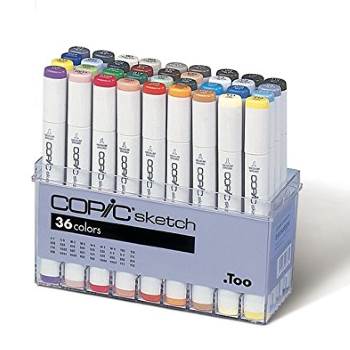 Copic is our favorite brand of marker and the Copic Sketch is the best they have to offer. They are the best markers for coloring, and are surprisingly affordable in the long run due to cheap ink refills.
Copics are alcohol-based markers, which make them ideal for blending. If you've ever envied a beautifully-blended coloring page that was done with markers, chances are the artist was using Copics. The alcohol-based ink takes longer to dry, which means the liquid ink can move around on the page after laying the color down. This is the fundamental technique behind blending markers. Among alcohol marker brands, Copic offers the highest quality ink that's available in an almost unimaginable array of 358 different colors and counting. The color combinations are almost truly endless.
There are four types of Copic markers (Sketch, Ciao, Classic, and Wide), but the Sketch is the only one available in every color that Copic offers. The Copic Sketch is double-ended and comes with two different nibs: the softer Super Brush which is ideal for blending, and the firmer Chisel tip which is great for creating crisp lines and edges. The nibs are interchangeable and can even be switched out for other types besides these two.
Copic markers are an investment; they are expensive upfront, but you only need to buy them once. Copic offers incredibly affordable "Various Ink" refills that you can use to refill your markers. A single Copic Sketch marker may cost about $4, but an $8 ink cartridge can refill that same marker 12 times, bringing the price down to under $1 per marker.
Other markers may be cheaper, but when your favorite color runs dry, you have to purchase a whole other marker… that is, if they are even sold individually, and not only available as part of a more expensive set! For a true marker lover, there is simply no better option than Copics.
Faber-Castell Pitt Artist Brush Pens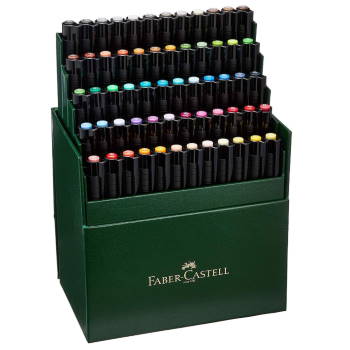 Faber-Castell Pitt Pens are top-of-the-line water-based markers. Faber-Castell is known for its artist-quality products, and these markers are no exception. They are professional-level art supplies.
The ink inside these markers is India pigment dissolved in water. Water-based markers have advantages and disadvantages when compared to alcohol-based markers like Copics. Paper absorbs water faster than alcohol, which means these Faber-Castell markers don't bleed as much as other markers. This makes it easier to create crisp lines and edges. However, it also makes it harder to blend colors together. The ink is less likely to pool, which means they don't bleed through to the other side of the paper. They are the best markers for double-sided coloring books.
These markers are sometimes listed as "brush pens," but the tip isn't a true brush with many individual hairs. The tip is a single felt cone that comes to a point. The soft felt tip can bend as needed as you move the marker over the coloring surface.
Prismacolor Premier Double-Ended Art Markers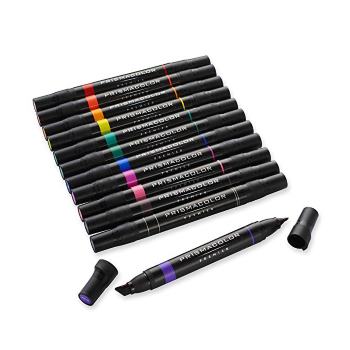 You probably know Prismacolor for their pencils, but they provide a wide range of premium artist supplies, including markers. These double-ended alcohol markers are a cheaper alternative to Copic markers, with a few key differences.
These markers are great for blending, and with over 200 different colors to choose from, the combinations are nearly endless. Like other alcohol markers, the Prismacolor markers tend to bleed through to the other side of the paper. They are best used with single-sided coloring books and printable coloring pages. The best paper to use with alcohol markers is a thick card-stock with a gloss coating that resists soaking up the ink.
Prismacolor markers are double-ended, so each one comes with a fine bullet tip on one end, and either a brush tip or a chisel tip on the other. You can tell which tip a marker will have based on its color code; colors starting with "PM" have a chisel tip, and colors starting with "PB" have a brush tip.
These markers are less expensive than Copics, but they aren't refillable. That means that if a marker runs dry, you'll have to buy another marker to replace it. One other thing we noticed (and confirmed reading other reviews) is that the caps can be quite hard to get off! Still, despite these minor flaws, the Prismacolor Premier markers are very good alcohol markers and a joy to use.
Tombow Dual Brush Pens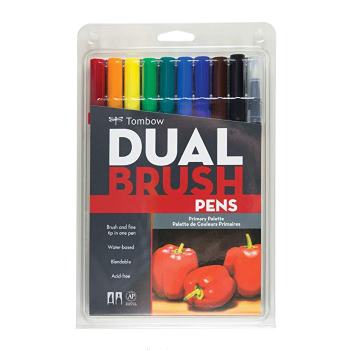 Even though they are meant for calligraphy and lettering, Tombow Dual Brush Pens are popular for coloring as well. The colors are especially vibrant, with a total of 95 different colors to choose from.
As the name implies, the Tombow Dual Brush Pens are double-sided, with a brush tip on one end and a fine point tip on the other. The fine point tip is too small to color anything but the tightest spaces. The brush tip is much better for covering large areas, but it is rigid and not as flexible as we would have expected from a brush tip.
Like the Faber-Castell Pitt Pens, the Tombows are water-based markers. If you've read the reviews above, you'll know that alcohol markers tend to blend better than water-based markers. Still, the Tombow Dual Brush Pens are advertised as blending markers, and even come with a colorless blender marker to help with this. While the Tombows do blend pretty well for water-based markers, they really don't compare to blendable alcohol markers. Their real strength lies in the vibrant colors they provide at a fairly affordable price.
Ohuhu Dual-Tip Art Markers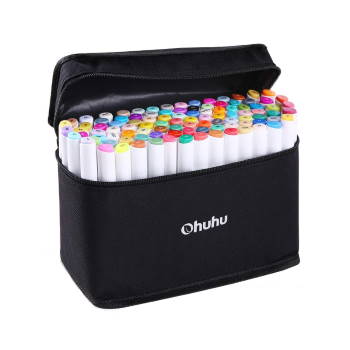 Ohuhu art markers have gained a reputation as a cheap alternative to Copic markers.
At around fifty cents per marker, Ohuhu markers are very affordable, especially for alcohol markers. The design is very similar to the Copic Sketch: a double-ended marker with an oval barrel. The markers have a chisel tip on one end, and a fine point tip on the other. The fine tip isn't as large or flexible as the Copic Sketch brush tip, so the Ohuhu markers aren't as easy to blend with. Blending with Ohuhu markers is a mixed bag. The lighter colors tended to blend together really well, but the darker, more saturated colors were hard to blend without appearing streaky.
Overall, Ohuhu aren't the best alcohol markers, but they are a great value. If you are a beginner who wants to try coloring with markers, these would be great starter markers. You could get a feel for blending and decide whether or not markers are for you. Practice for a while with the Ohuhu markers, and once you've decide you're ready, upgrade to some better markers.