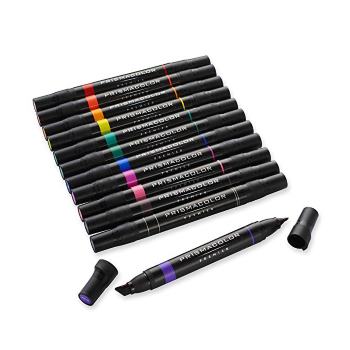 Prismacolor Double-Ended Art Markers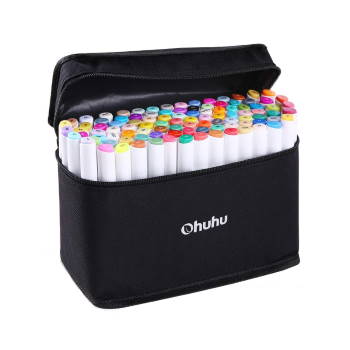 Ohuhu Dual-Tip Art Markers
The Cheapest Copic Alternatives
Prismacolor Premier Double-Ended Art Markers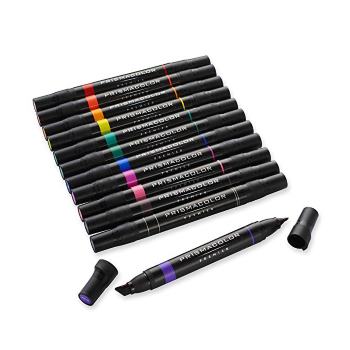 Prismacolor doesn't just make pencils! Their double-sided art markers are probably the best alternative to Copic markers available.
Just like Copics, these are double-sided alcohol markers (it's the alcohol that makes them great for blending). While there aren't as many colors as Copic (200 vs 358), there are plenty of different shades to keep you blending for days.
The Prismacolor markers are cheaper than Copics, but a full set will still set you back. Also, these markers aren't refillable, so when a marker runs dry, you have to buy a replacement.
The other bad thing about these markers is that certain colors don't come with a brush tip. If you want the smoothest blends, you need a brush tip. All Prismacolors have a bullet tip on one end, and either a chisel tip or a brush tip on the other. Which tip the marker has depends on the color. Chisel tip and brush tip colors have different color codes; "PB" colors come with the brush tip, and "PM" colors come with the chisel tip.
Overall, the Prismacolors are awesome markers with a few minor drawbacks. They're cheaper than Copics, but definitely not the cheapest!
Ohuhu Dual-Tip Art Markers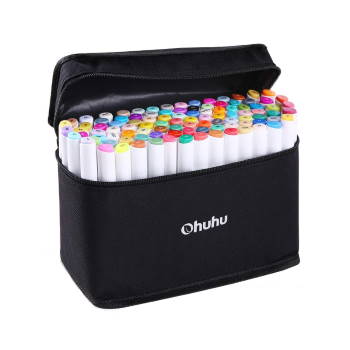 Ohuhu is a pretty new marker brand that has quickly become known as a cheap Copic marker alternative.
Just looking at the markers. it's easy to see why. The design is practically identical to the Copic Sketch: a double-sided marker with an oval barrel. Each marker comes with a chisel tip and a fine point tip (that's trying to be a brush tip, but falls a bit short).
Ohuhus certainly are cheap, though. You should be able to get the full set of 80 colors for around $40. This is great if you're new to markers, because it lets you try coloring with a full range of colors without spending a fortune. It's really hard to get a feel for markers if you can only afford a few colors.
But while Ohuhus are affordable, they're certainly not the best markers in the world. They don't blend nearly as well as Copics do. In fact, some Ohuhu colors don't even blend as well as other Ohuhu colors. We found that the lighter colors blend pretty well, but the darker colors appear streaky and don't blend smoothly.
Overall, Ohuhu aren't Copics, but they are a great introductory marker at an awesome price. If you've never used markers before and want to find out if coloring with markers is for you, Ohuhu markers are great to start with. You can get a bunch of them for cheap and learn the basics of blending. Once you've practiced a bit, you can graduate to Copics.